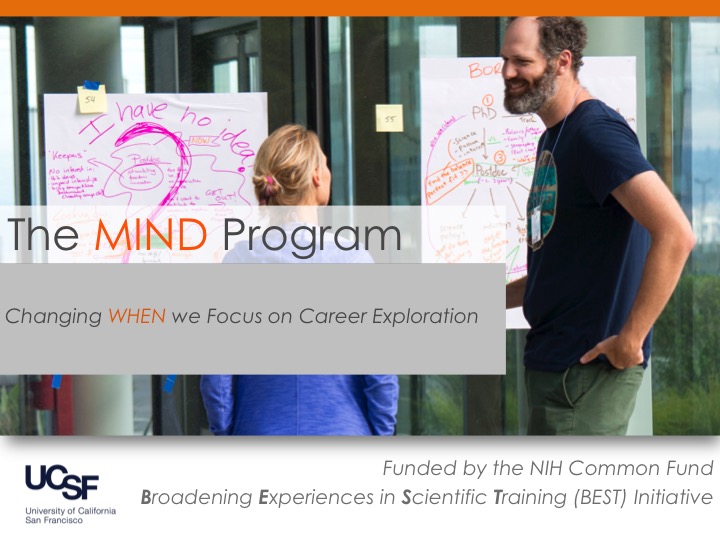 Applications for the MIND 2018-2019 Program will open July/August 2018!
Biomedical graduate students and postdocs who are chosen to participate in the MIND commit to an eight month program of career development and exploration. The program begins with a three full days of Catalytic coursework, which will occur on Saturdays through October and December. During this coursework, trainees will develop the basic skills needed to investigate career options that are best suited to their skills, interests, and values. Through the academic year, trainees will work in Peer Teams, meeting twice per month beginning in January, to explore various career options. Individual trainees will connect with professionals and UCSF alumni in a range of fields and jobs, to gather reliable and comprehensive information about their options. Trainees will share this knowledge and experience with their peers, and document this in a knowledgebase that is to be used as a resource available to biomedical trainees nation-wide.
What will I get out of the MIND program?
A peer team network who will help you make career exploration progress
Access to a database of professionals who have agreed to help you gain experience and knowledge in a variety of careers
---
MIND will not connect trainees to specific job opportunities, but will help them undertake the exploration necessary to identify the careers that are of interest to them. If you are in job-search mode, you should NOT apply to the MIND program, and instead should access the Office of Career and Professional Development's services for job-seekers.