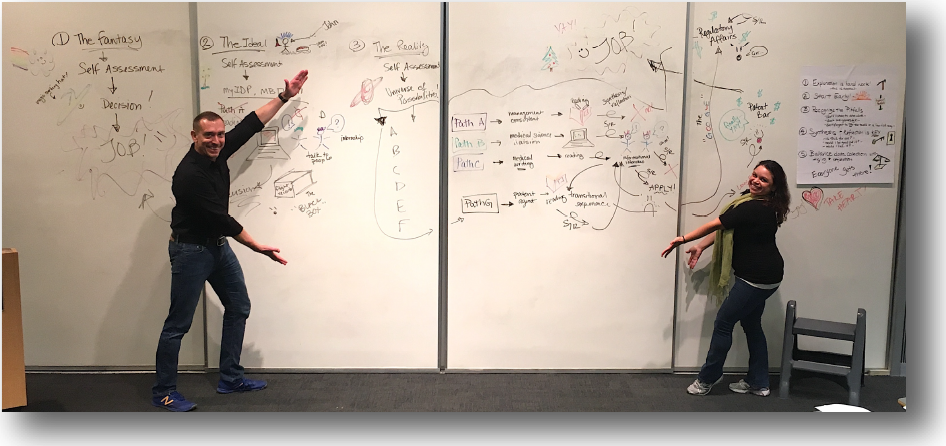 ---
Course Description
The MIND Catalytic Course is a brief, targeted course designed to teach career exploration skills, and informed by the career development literature. It is career-neutral, encouraging attendees to explore and pursue whatever careers are of greatest interest – including both careers inside and outside academia. It is designed to serve as a springboard that primes you to fully exploit the second part of the MIND program, in which you will direct your own career exploration activities with the help of a team of peer coaches. This course is designed to be "catalytic" in the sense that it "activates" trainees, provides the tools and conceptual frameworks ("substrates") needed for career exploration, and catalyzes a career planning "reaction" that takes place over time, continuing through the rest of the MIND program year.
---
Who This Course is For
This course is designed for UCSF postdocs and PhD students in the biomedical fields who are still exploring their career options. If you have not decided what kind of career to pursue after your current position at UCSF, then this course is for you. 
Caveats:  If you are already know what career you will pursue, or if you are already in job search mode, please do not sign up for this course, as your goals will be much better served by the many other services offered by the Office of Career and Professional Development.
---
Course Dates
---
Main Instructors
Additional Speakers (in order of appearance):
---
Learning Objectives
If you attend all three course meetings and complete all the homework, then by the end of the Catalytic Course you will be able to:
List the activities leading to successful career transition and reinvention.
Identify 2-3 careers that best fit your unique skills, interests, and values (S,I,V) using the myIDP module.
Identify professionals in your careers of interest who you would like to add to your network.
Define your goals for an informational interview, and prepare the materials needed to initiate and conduct one.
Synthesize and reflect on the information you collect about careers of interest to assess alignment with your S,I,V.
Improve and complement your training experience UCSF.
Synthesize and reflect on the information you collect about careers of interest to assess alignment with your S,I,V. 
Prepare and conduct 3 informational interviews with professionals in your career(s) of interest.
Breakdown your career exploration journey into achievable goals.
Practice and improve your teamwork and communication skills
Evaluate if your career(s) of interest align with your skills, interests, and values.
Develop a career plan at the end of the MIND program and boost your career confidence
---
Highlighted Interactive Workshops in the MIND Course
---
Course logistics:
---
Click here to view the 2018-2019 Catalytic Course Syllabus. To see previous course content, please refer to the 2017-2018 Catalytic Course syllabus.