Impacts of the MIND Program
---
---
Career Exploration is Hard Work!
Career exploration is a mysterious and messy process. MIND is designed with the busy schedules students and postdocs in mind: we guide participants through a structured career exploration process thst maximizes their knowledge of career(s) of interest, while minimizing the impact of time spent away from their research responsibilties. Learn how MIND helps to structure this process for our participants below:
---
The Fantasy, The Ideal, and The Reality of Career Exploration
You might have a fantasy about getting to your dream career or have an idealized notion of what the process of career exploration looks like. The reality is that career exploration is often a messy and iterative process; it's also hard work! Watch this video to see what career exploration is really like.
This content was originally developed and presented as an interactive chalktalk by Bill Lindstaedt, Liz Silva, and Gabriela Monsalve [1] for MIND Catalytic Course [2] participants.
---
Personalize Your Career Exploration using a Road Map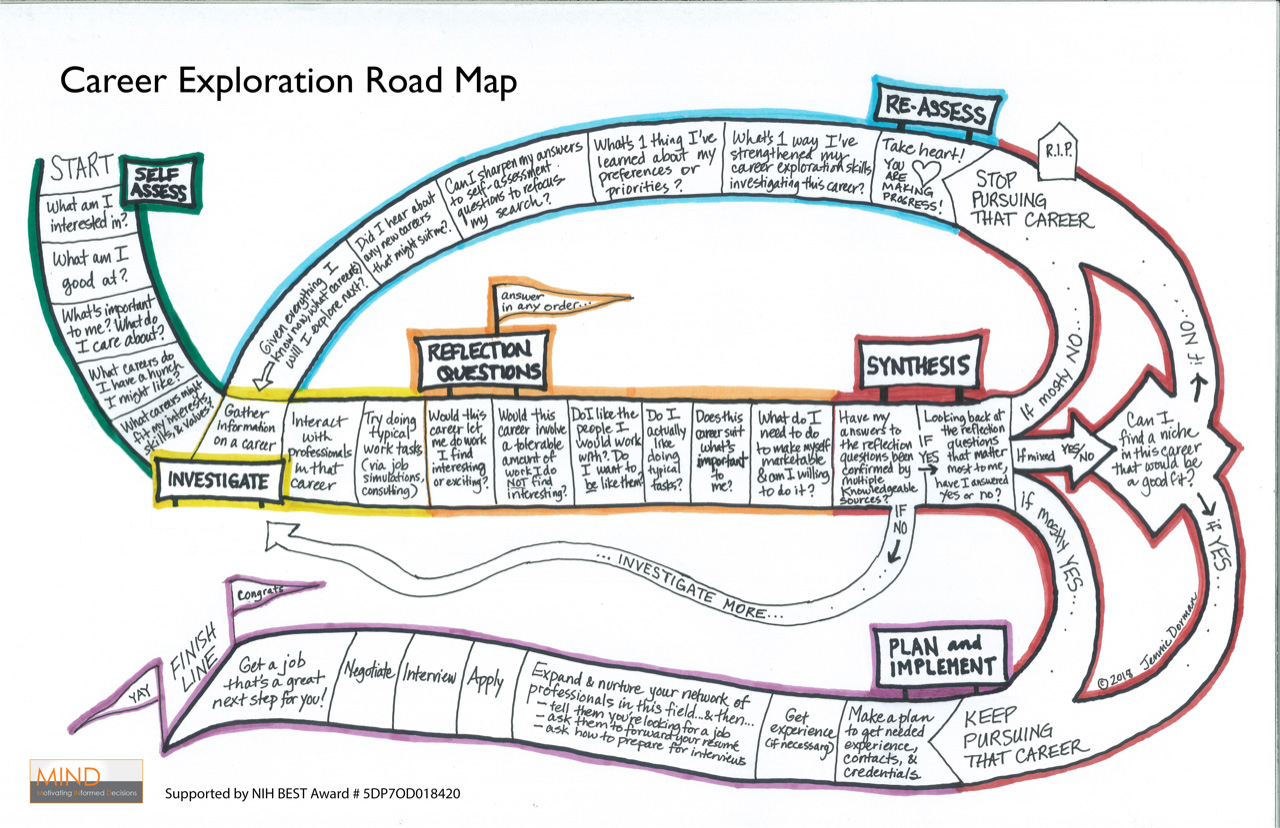 [3]
Most of us know we should spend time investigating our future career options, but we find a thousand reasons to delay. The MIND Career Exploration Road Map [3] was designed to alleviate the stress and overwhelm of career exploration by breaking down the process into manageable and actionable steps shown in a gameboard-style schematic.
Read more about it here at Inside Higher Ed [4]!
The MIND Career Exploration Road Map is also featured in Science Careers [5]!
---
The Importance of Career Exploration
Career exploration skills learned in the MIND program are applied to every facet of professional development: landing that next job, cultivating your network, and even making your time in lab more efficient and productive!

[6]
In fact, our alumni told us that...
MIND helped them rule out at least one career path (79%, n=214).
MIND was a valuable use of their time (82%, n=209).
MIND had no or a positive effect on their research productivity (92%, n=210).
MIND increased overall satisfaction in their training at UCSF! (87%, n=209).
Learn more about the importance and process of career exploration below.
---
Video Interviews of MIND Participants
Dr. Jason Godlove [7] (MIND 2014-15 Alumnus) describes how the MIND Program propelled his career transition from academia to data science.
Advice and lessons learned from our MIND Program alumni (2015-16 class).
---
Written Articles by MIND Participants
---
Using Peer Teams for Career Exploration
The "Peer Mentoring Teams for Career Exploration [12]" manual represents the facilitator training curriculum we developed over the past four years as we trained 60 different people to serve as peer team facilitators for 41 peer teams.  It has evolved in response to feedback received from both facilitators and participants alike, and the peer team experience has in turn informed the catalytic course.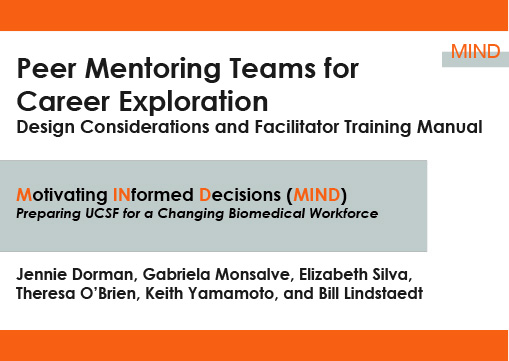 [12]
Why peer teams for career exploration?
Since 2001, when UCSF's Office of Career and Professional Development [13] (OCPD) was established to serve graduate students and postdocs, OCPD's career counselors noticed a troubling pattern: many trainees appeared at the career center for the first time — in a panic — just months before they needed their next position. Those trainees who did begin exploring careers earlier often found it hard to sustain career exploration activities amidst the pressures of research and the rest of life. As a result, many of our trainees were reaching the job market before they had a clear plan for what they wanted to do, and before they had a professional network that could help them get there. 
We needed a new method that would introduce students and postdocs to career exploration much earlier in their training and would support them through its inevitable ups and downs.
For both pragmatic and philosophical reasons we wanted to try using peer mentoring teams to help trainees stay engaged in career exploration.  Pragmatically, we were concerned that the demand for our 1-on-1 career-counseling services might one day outpace the available supply. Philosophically, we believed that career options should be openly and rigorously examined, and we wanted to reduce the isolation that often shrouds this subject. We also believe that a great deal of professional development can be attained simply by being a member of a close-knit group and witnessing, at close range, the experiences of others. 
Peer mentoring groups are used extensively in the business world (where they are often called peer mentoring circles), and have been applied in academia and government to help participants reach many different kinds of challenging goals, including:
Job search

[16]

Career and professional progress in general
We designed the MIND program to test whether peer mentoring groups could provide the support and structure needed to engage our trainees in a more sustained way in career exploration. 
---
Identifying New Career Fields for Biomedical PhDs
As MIND alumni leave their training at UCSF for a variety of different careers, some of our alumni inevitably create novel career opportunities for themselves, and in turn, forge a new career path for other biomedical PhDs to consider.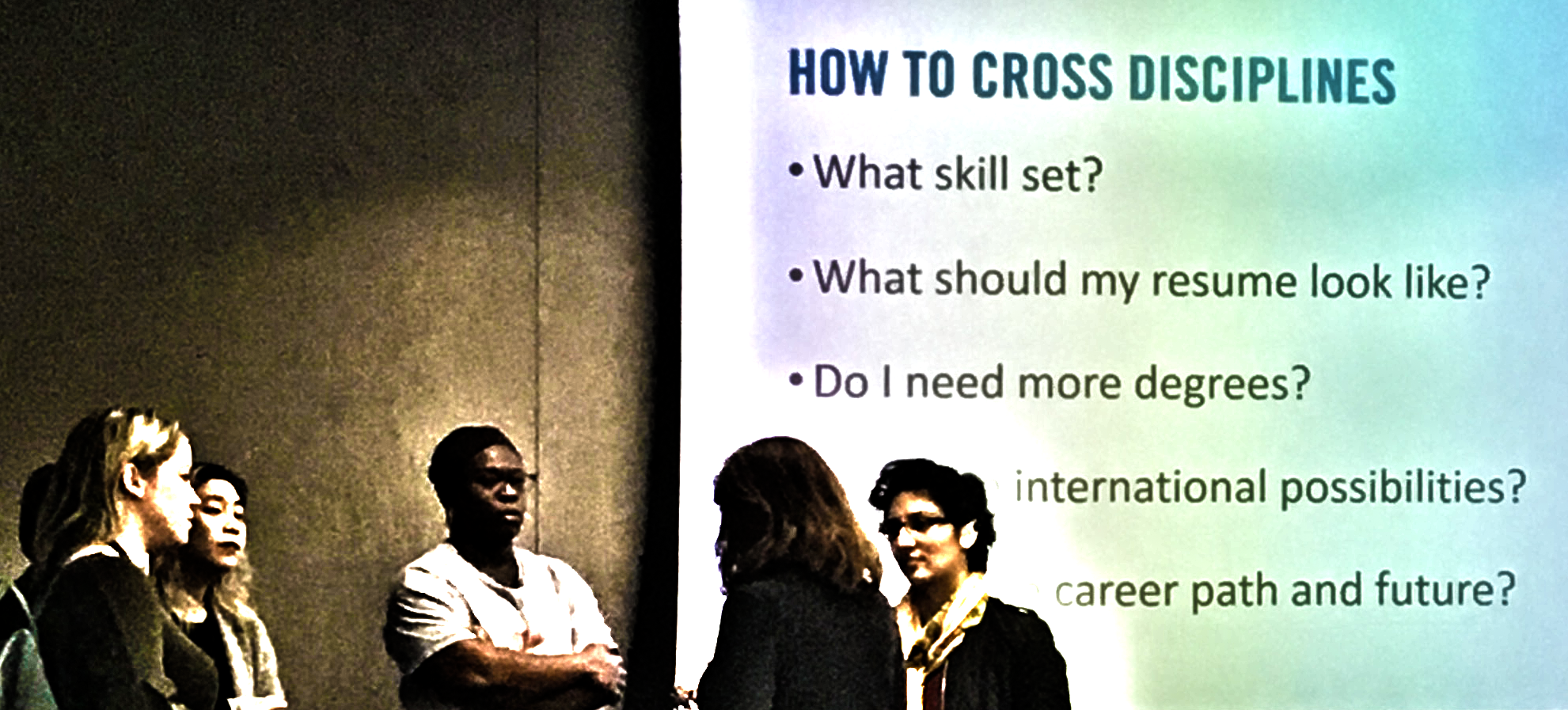 New Careers in 'Neuro-Architecture' for Biomedical PhDs
On March 8, 2018, MIND hosted Dr. Eve Edelstein [21] and Dr. Ruchi Masand [22] (UCSF and MIND alumnus) of the Human Experience Lab at Perkins + Will  [23]to discuss a new career opportunity for biomedical PhDs [24] within architectural design."Neuro-Architecture" applies neural and clinical science to understand how the built environment influences the brain, body and behavior. Cutting-edge biomedical research is distilled into new design guidelines and innovative architectural solutions to address people's changing needs.
---

[25]
Exisiting Careers in Academia You Might Not Know About
The majority of our MIND participants consider and explore careers within and outside of academia simultaneously. However, many were not aware of the diversity of career paths available within academia. To address this knowledge gap, in 2017 the MIND team developed a new the "Careers in Academia You Might Not Know About [26]" presentation. This whiteboard-styled, interactive module explored and discussed the different types of faculty and non-faculty career-track positions available to life science PhD-level scientists in academic institutions, including research-intensive (R1) institutions, primarily undergraduate institutions (PUIs), liberal arts colleges, master's granting universities, and community colleges. Some examples of these types of careers included positions with research, teaching, and/or administrative responsibilities. We featured the stories of several UCSF faculty and staff, and illustrate how they navigated their career trajectory in a variety of different academic positions.
---
Developing a Professional Network
An integral part of the career exploration process for MIND participants is identifying, connecting, and cultivating professional relationships with PhD-trained biomedical scientists in their career(s) of interest. The majority of MIND participants grow their professional networks through connections with their peer team [27], through our curated database of MIND partners [28], or in some cases, via company site visits. Read about the latter below.
MIND alumni build their professional networks by visiting Bay Area Companies
MIND teams up with University of Chicago's BEST Program myCHOICE [29] for a Data Science/Computational Biology Trek [29].
This was an exclusive opportunity for six lucky MIND alumni [30] and six trainees from the University of Chicago. The application process was competitive: application materials included submitting resumes and cover letters for open positions, and revising these documents in one-on-one career counseling sessions with the MIND staff. Company site visits included:
Quotes from UCSF MIND participants:
"I am one of the MIND Program alumni and one of the trainees from Data Sci & Computational Biology Career Trek last year. I'd like to thank you and the programs. Throughout these events, I've made a successful transition into Industry Research, the area I've been hoping to move into. I recently launched my first industry job as a Senior Scientific Researcher at Genentech. Please feel free to reach out anytime if there is anything I can help."

"I found the Data Trek to be a very exciting experience. I thought it was invigorating and really motivated me to actively pursue my career transition towards data science...Surprisingly, not only did I learn more about the companies, I also gained a degree of confidence in myself, the career direction I am pursuing, and what questions to ask as an aspiring data scientist to facilitate the transition."

"It was immensely helpful visiting companies and talking with industry scientists who have been in my shoes. This trek has helped to demystify the transition from academia to industry and give me confidence that I have gained transferrable skills during my PhD."
---
Transparency in Career Outcomes
The MIND Program supports efforts for the transparent dissemination of the career outcomes of UCSF biomedical PhD trainees.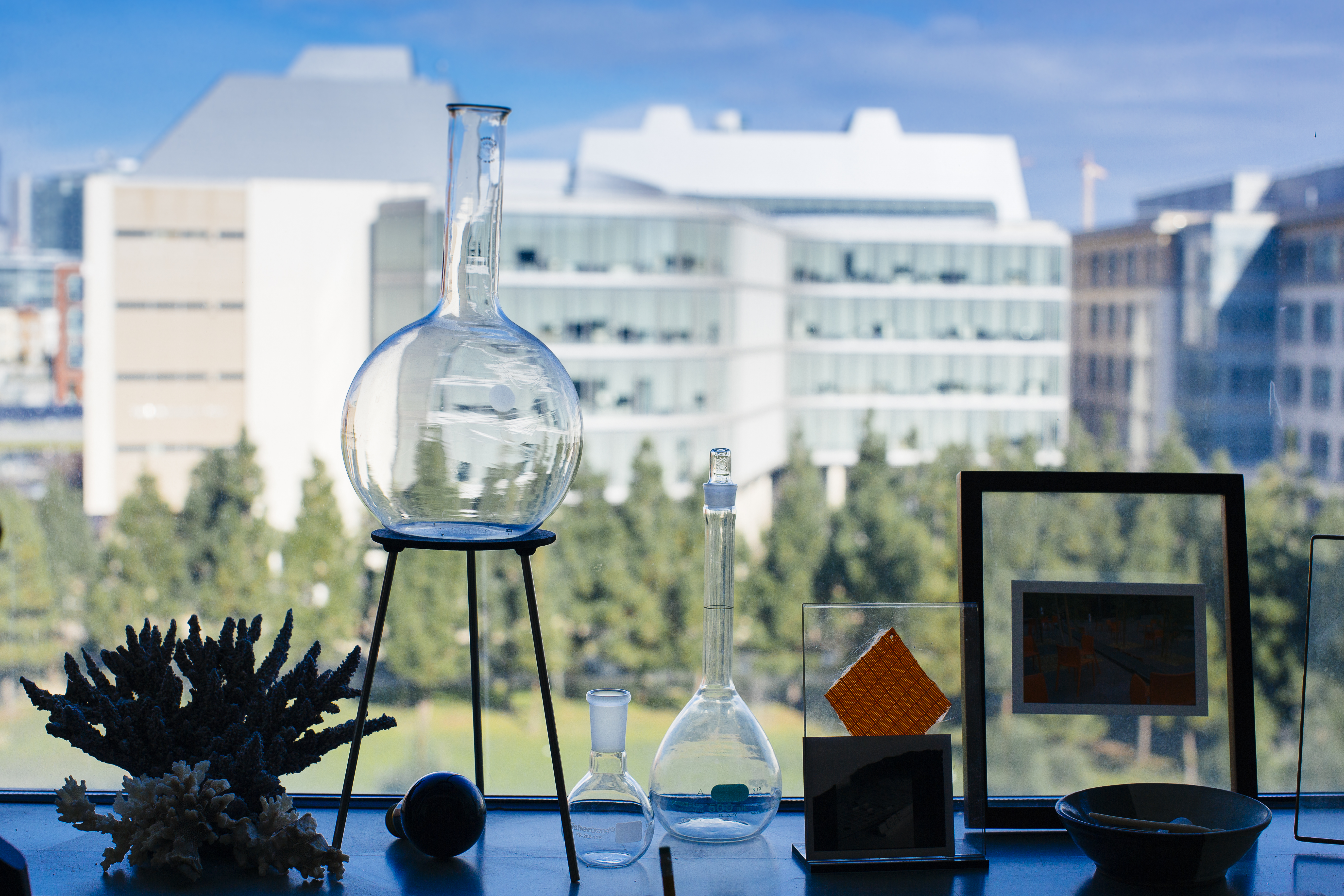 UCSF is already a leader with increasing the transparency [39] of its trainees' demographics and outcomes [40].
The MIND Program is currently exploring how to complement these existing institutional efforts by providing career outcomes data of graduate students and postdoctoral scholars sorted by individual faculty mentors.